Agent and Admin Functionality Seamlessly Integrated with Salesforce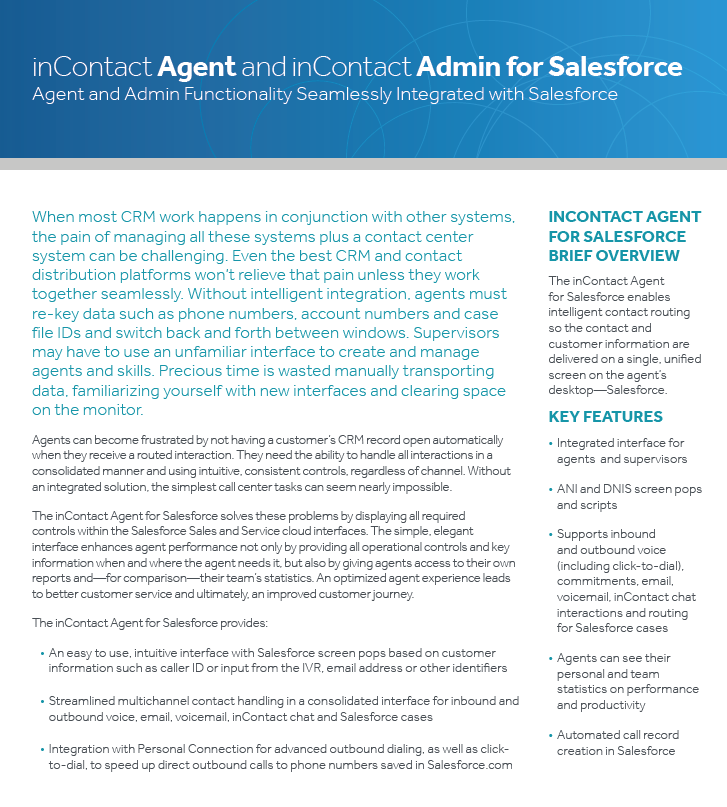 When most CRM work happens in conjunction with other systems, the pain of managing all these systems plus a contact center system can be challenging. Even the best CRM and contact distribution platforms won't relieve that pain unless they work together seamlessly. Without intelligent integration, agents must re-key data such as phone numbers, account numbers and case file IDs and switch back and forth between windows. Supervisors may have to use an unfamiliar interface to create and manage agents and skills. Precious time is wasted manually transporting data, familiarizing yourself with new interfaces and clearing space on the monitor.
Agents can become frustrated by not having a customer's CRM record open automatically when they receive a routed interaction. They need the ability to handle all interactions in a consolidated manner and using intuitive, consistent controls, regardless of channel. Without an integrated solution, the simplest call center tasks can seem nearly impossible.
The inContact Agent for Salesforce solves these problems by displaying all required controls within the Salesforce Sales and Service cloud interfaces. The simple, elegant interface enhances agent performance not only by providing all operational controls and key information when and where the agent needs it, but also by giving agents access to their own reports and—for comparison—their team's statistics. An optimized agent experience leads to better customer service and ultimately, an improved customer journey.
Download "Salesforce Agent and Admin Data Sheet.pdf"

SFDC.0002.SalesforceAgentandAdminDataSheet.A6.16.1-1.pdf – Downloaded 938 times – 371.65 KB