Aruba Clearpass Overview
SOLUTION OVERVIEW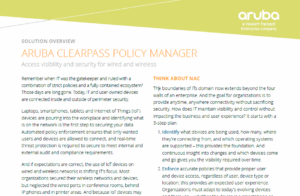 Remember when IT was the gatekeeper and ruled with a combination of strict policies and a fully-contained ecosystem? Those days are long gone. Today, IT and user-owned devices
are connected inside and outside of perimeter security.
Laptops, smartphones, tablets and Internet of Things (IoT) devices are pouring into the workplace and identifying what is on the network is the first step to securing your data. Automated policy enforcement ensures that only wanted users and devices are allowed to connect, and real-time threat protection is required to secure to meet internal and external audit and compliance requirements.
Download "Aruba Clearpass Overview.pdf" Aruba-Clearpass-Overview.pdf – Downloaded 381 times – 502 KB